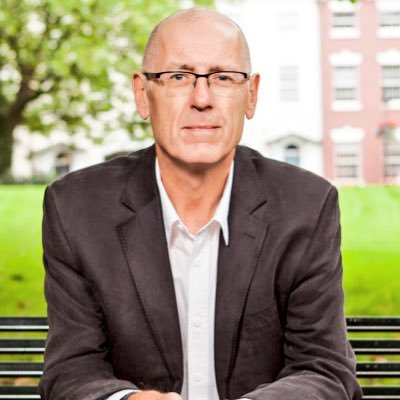 I'm Phil Riley, co-founder of Boom Radio, and I'm a 40 year radio veteran who has had a great life in the business, launching and running loads of terrific stations over the years, like Magic, Heart and LBC.
Like lots of Boomers I was, aged 61, heading into a "pre-tirement" mix of smaller jobs and hobbies - helping a couple of mates run a boutique TV commercials business in Brum I have a small investment in, supporting the radio industry awards by chairing their judging panel, learning some Spanish, and giving a bit back by acting as a trustee for my favourite charity, the children's hospice Acorns which operates across my adopted home patch of the West Midlands.
Then in the Summer, my partner in crime David Lloyd floated an idea - did I think there might be a gap for a commercial radio station aimed at us, the Baby Boomer generation. I was intrigued, and did what I always do when someone suggests a business to me - I rustled up a very quick financial model. And yes, at first blush, it looked like it could work. So David and I agreed to put some real effort into thinking the idea through - what were the pitfalls where could it go wrong, what would we need to do to get on air, who would we need to talk to to help us run the station and how much would we need to raise and spend for it to work. A lot of Zoom calls and spreadsheets later, we had a reasonably solid plan.
Then the hard work started - because any business needs money - and this one needed a lot more than David and I had sitting in our current accounts. So we spent a fair bit of time talking to old friends and former colleagues about helping us out with investment. And actually, nearly all of them did want to help. So not only did we have the cash, more importantly we had the backing of a bunch of people with almost as much if not more media experience than we had, which gave us the confidence that we had stumbled upon a good idea, and that our mates thought we could pull it off and were prepared to back us.
Since then we've been busy signing contracts to allow us to broadcast, talking to presenters, getting the technical kit sorted out, chatting up sponsors and advertisers, and generally doing the things David and I have each been doing for 40 years or so, getting on and launching and running radio stations - the last 20 of which have been together. And we are increasingly like an old, married couple now, constantly correcting each other and pointing out that the other one has forgotten something important, or filed some important paperwork in the wrong place. It seems to work though:)
One of the exciting things about Boom is how we are using modern technology to make it a virtual business. No expensive studios and offices - everyone working from home using their own impressive facilities, at their own pace, but with a common goal, to get the station up and running as smoothly and efficiently as possible. And we are all Boomers, so our vision really is shared (and increasingly a bit blurred tbh). We are all getting to grips with Zoom and Slack (don't ask) and trying not to end up working 17 hours a day, as we are all so keen.
Launching a station is a most incredible feeling, and I've been involved with quite a few in my time. I'm not sure though that I've ever been involved in one where I am as personally invested as I am with Boom. And I don't mean invested just in a monetary sense (although in the end I did raid the current account, the savings account, the back of the sofa and the kids inheritance to fund my share of the business). I mean more that it feels empowering, aged 61, to have literally started something from scratch, after an email from a mate with an idea. Yes, we were fortunate to be able to tap up friends who had done all right and could support us, and we've got masses of our own experience to call upon, but I don't think 15 or 20 years ago people would have thought of starting afresh aged 60 with a start-up business. It's the drive of those of us in the Baby Boomer generation I think we are personally tapping into, and I think we are going to see a lot more Baby Boomers starting businesses in the years to come - and hopefully we can reflect that new Boomer spirit of "get up and go" on-air at Boom Radio.
Phil
The Boom Team