Party Time!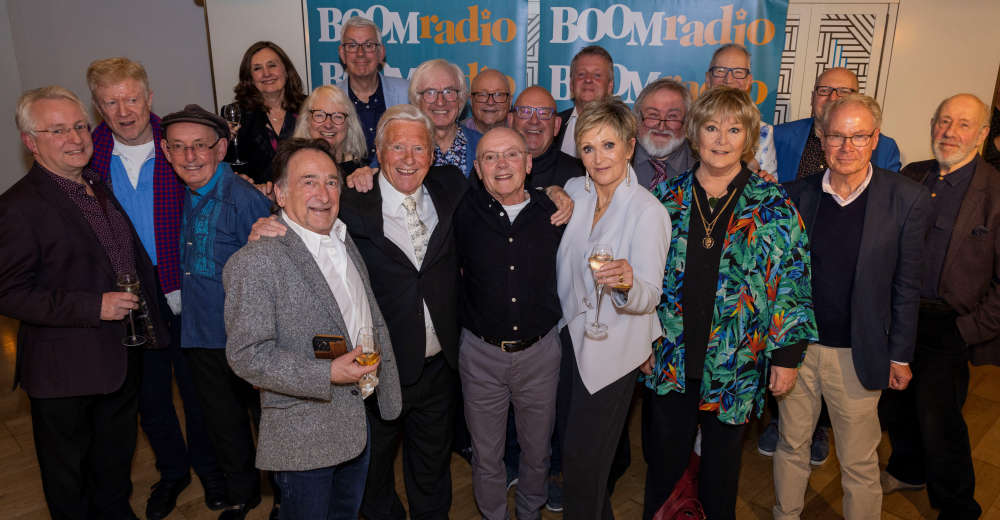 Parties are meant to be memorable. At Boom, they're even more so - given we broadcast from our own homes and meet up so rarely.
For many of us, our get-together in London to mark our second annniversary belatedly was a welcome chance to renew old friendships. For others, it was a chance to shake hands for the very first time.
Spirits were high as we raised our glasses to you - our audience - and shared tales of our months on-air.
We don't wish to bore, but some listeners have asked to see our party snaps. We thought we'd share just a few - taken by Emilie Sandy, unless stated otherwise. Thanks, Emilie.
Above, see most of the team you hear on-air. (Rear L-R: Quentin Howard, Kid Jensen, Les Ross, Diana Luke, Jane Markham, Derek Webster, Roger Day, Dave Brown, Rob Jones, Mike Wyer, John Peters, David Lloyd, Paul Robey, Bill Bingham. Front L-R: Nicky Horne, David Hamilton, Graham Dene, Judi Spiers, Jenny Hanley, Nick Bailey).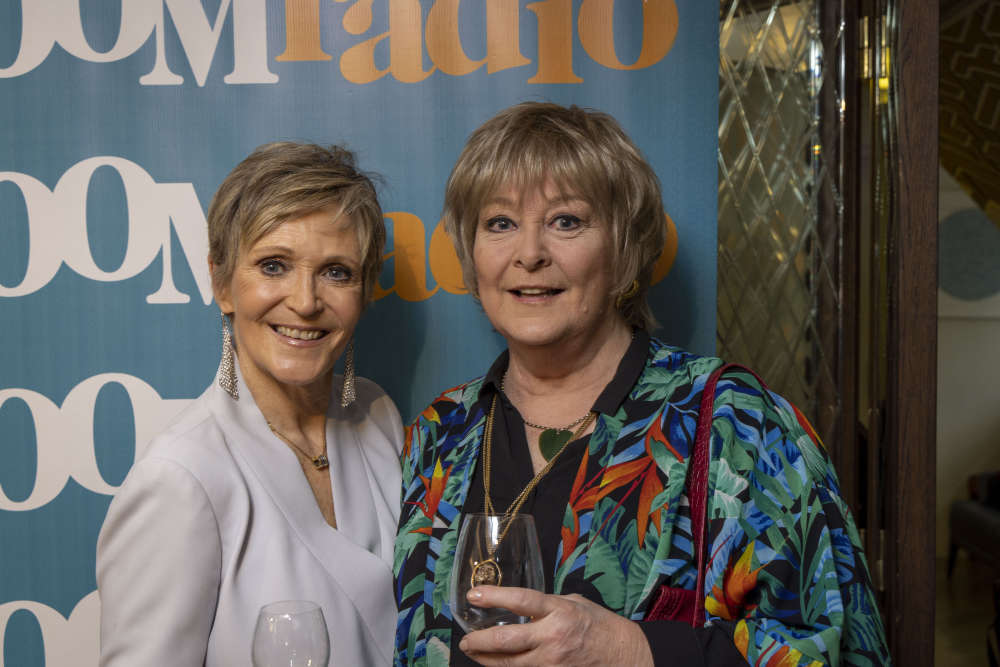 Our team travelled from across the UK and beyond. Here, Judi Spiers (L) from Devon shares a smile with the great Jenny Hanley up from the South Coast.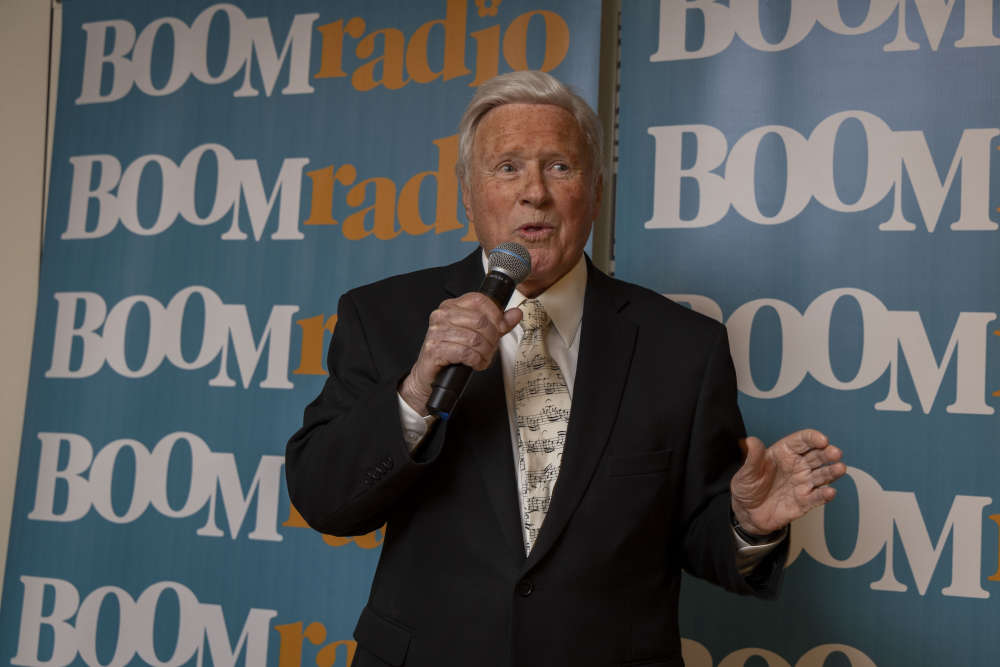 There was a special speech, of course, from the legendary David Hamilton who arrived from Sussex.
With a wry smile and some blunt, honest words, he offered a view on about why he felt Boom had acquired its significant audience quite so quickly.
He also made us smile. David is broadcasting Royalty.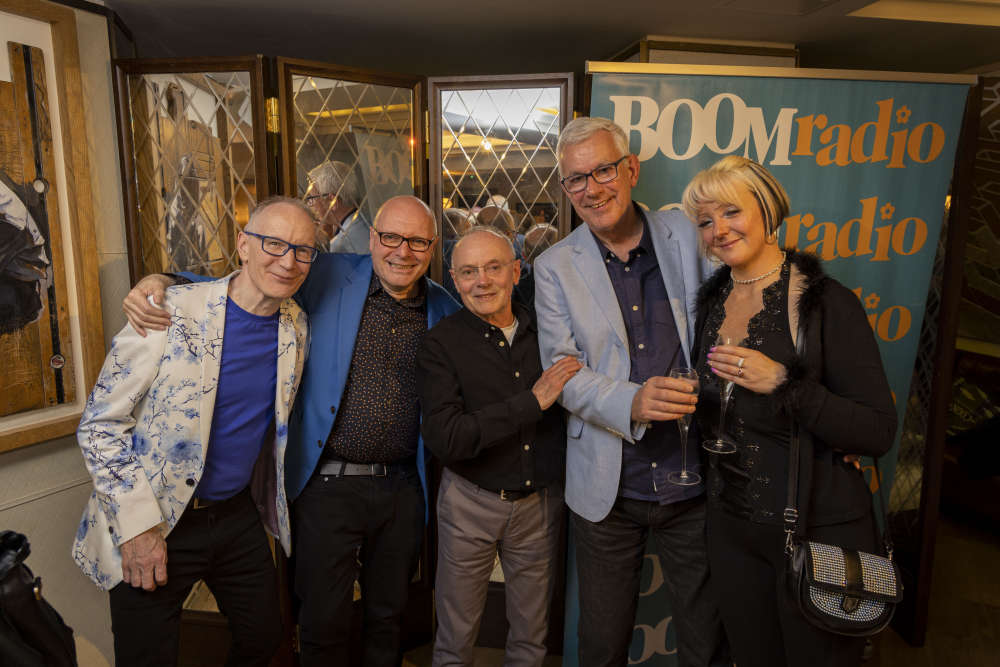 Few of us recalled quite how tall Derek Webster is (you guessed - second from right). Just to prove the point, here he is surrounded by his partner Lisa and the great Graham Dene, with David Lloyd (far left) and Paul Robey looking on.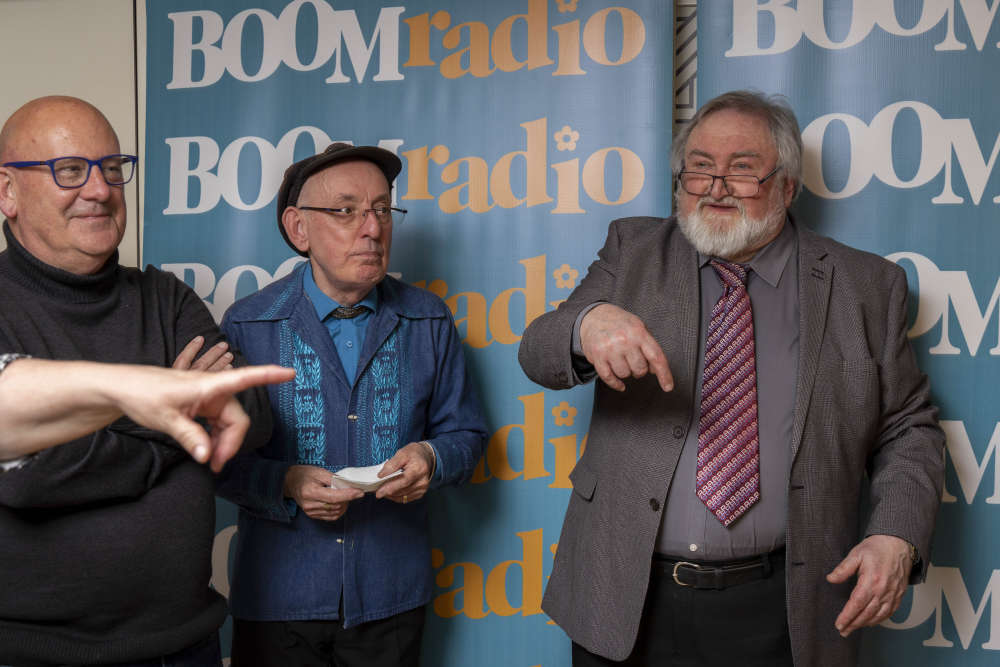 Hmmm. DOWN five places to this week's Number Ten, points our Vintage Charts man John Peters, with Les Ross evidently a tad worried about the serious fall. Good job Rob Jones seems relaxed about things.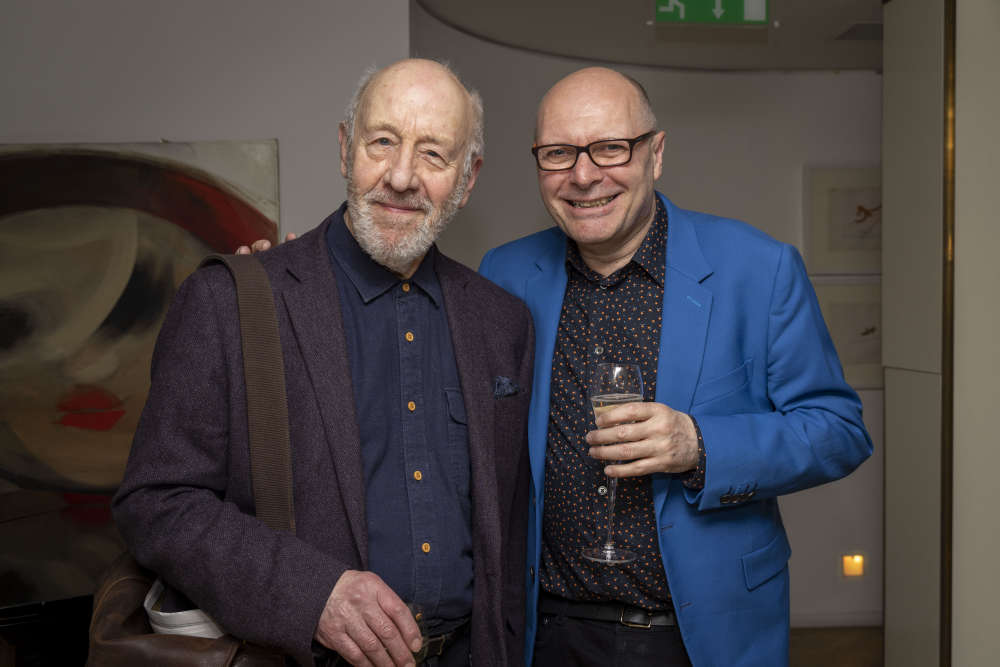 Bill Bingham (left) and Paul Robey go back some years. Both spent days at Nottingham's Radio Trent but it was at Saga Radio that they worked more closely together. Paul may now change his name by Deed Poll to Doctor Music, given his serious reponsibility for working with the presenters in carving out the music we play in every show.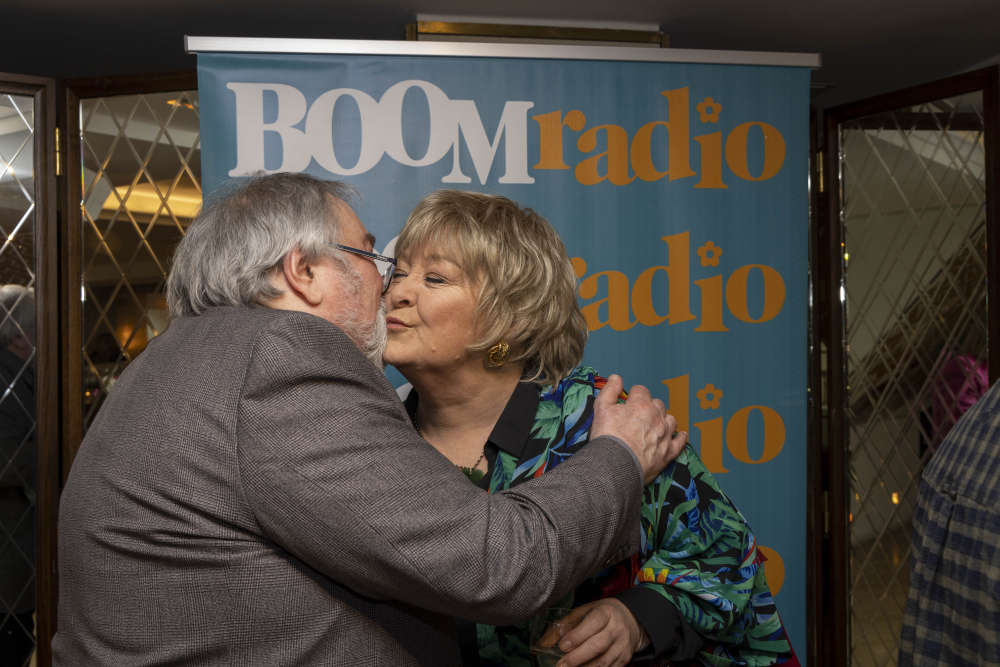 Every Saturday afternoon at 4.00, Jenny Hanley on the South Coast hands over to John Peters in the Vale of Belvoir. Although they have roots in the same part of the World, our get-together was the first time they'd met.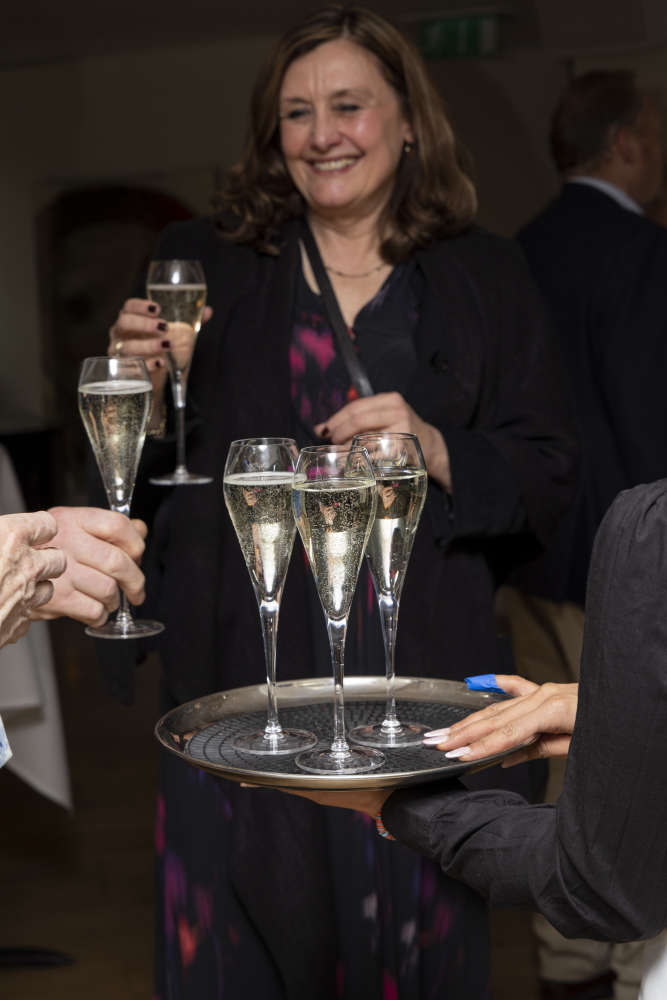 "No, I'm fine", insists Diana Luke when offered more champagne, before she turned to chat to more people.
Diana has such a disarming knack of getting to know more about you in ten minutes than your partner does in ten years. Little wonder she's such good late-night company on Boom.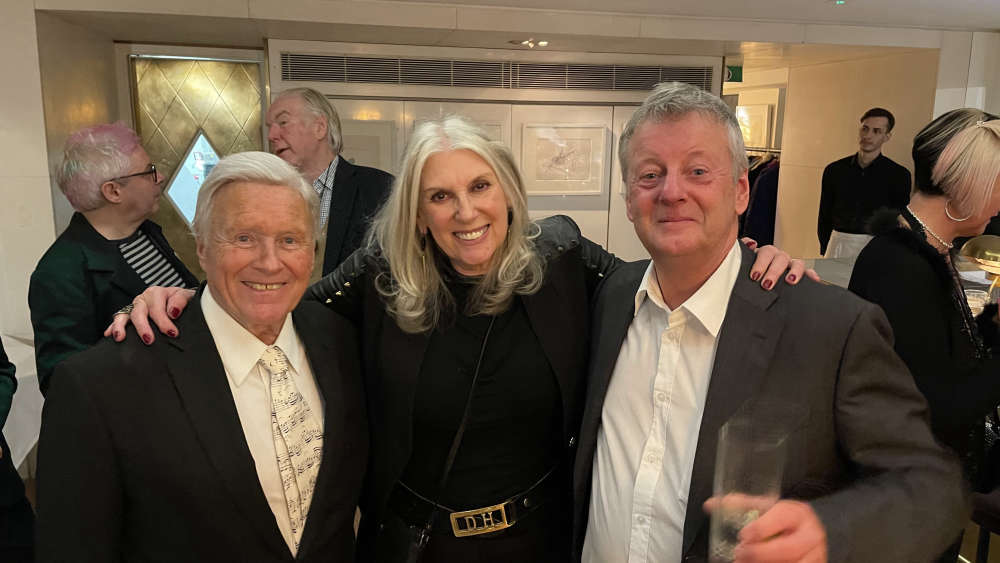 Of course, Dreena Hamilton was on hand to make sure husband David behaved himself. And for good measure, she kept an eye on Mike Wyer too. (Pic Sheryl Wyer).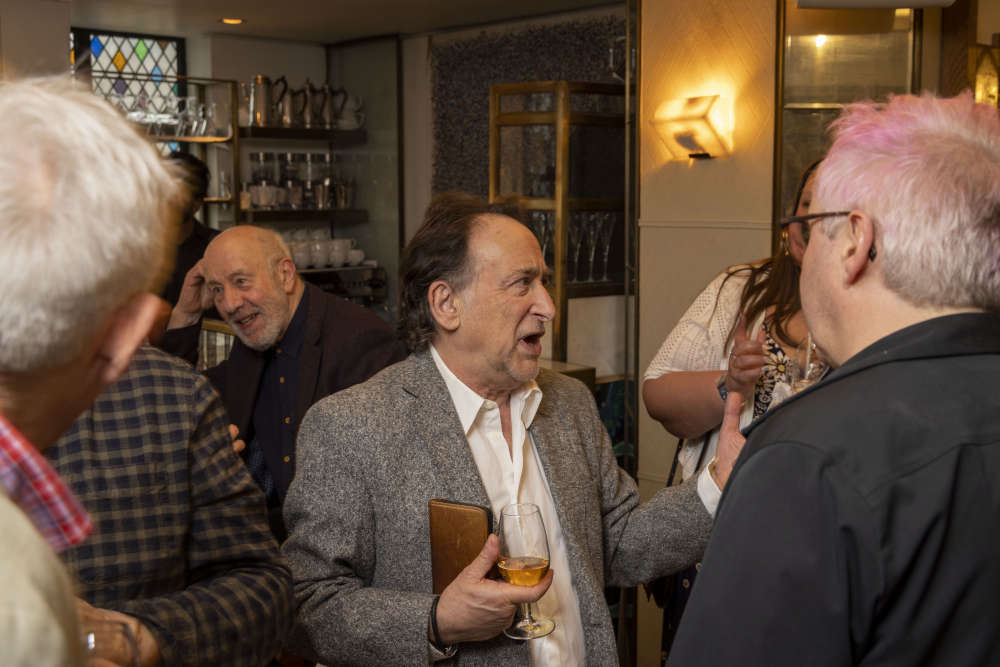 Nicky Horne scores his wine a Perfect 10 and makes a point with conviction, whilst Bill Bingham is fascinated at the rear by causes unknown.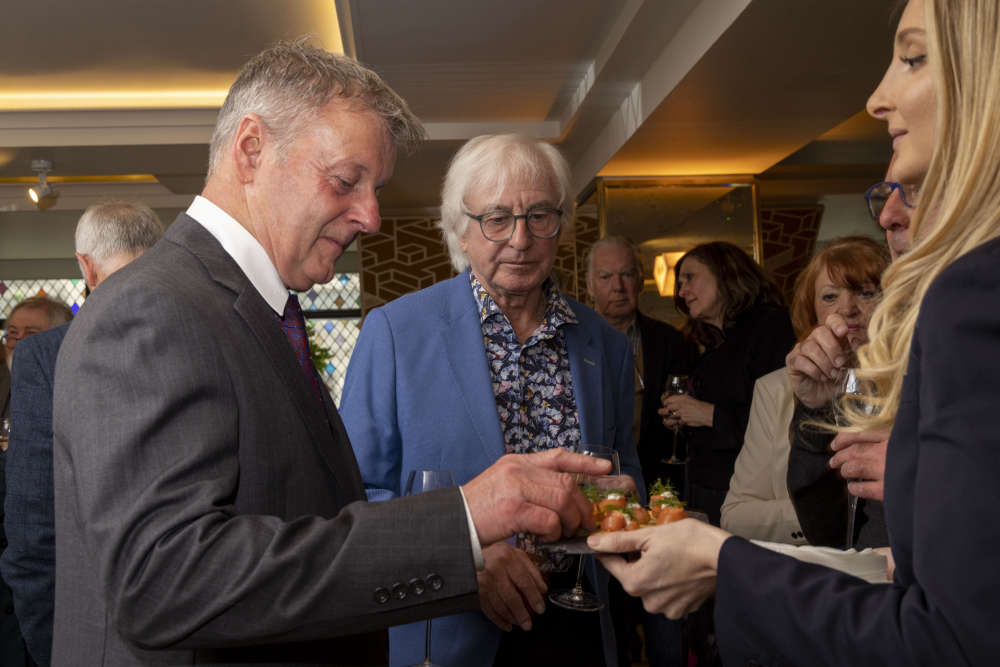 Hmmm. Food, at last, said Roger's eyes - as the canapes arrived, albeit Mike Wyer got there first. Roger didn't get those on-board the pirate ships. Mind you, we didnt eat them on-shore back in the '60s either.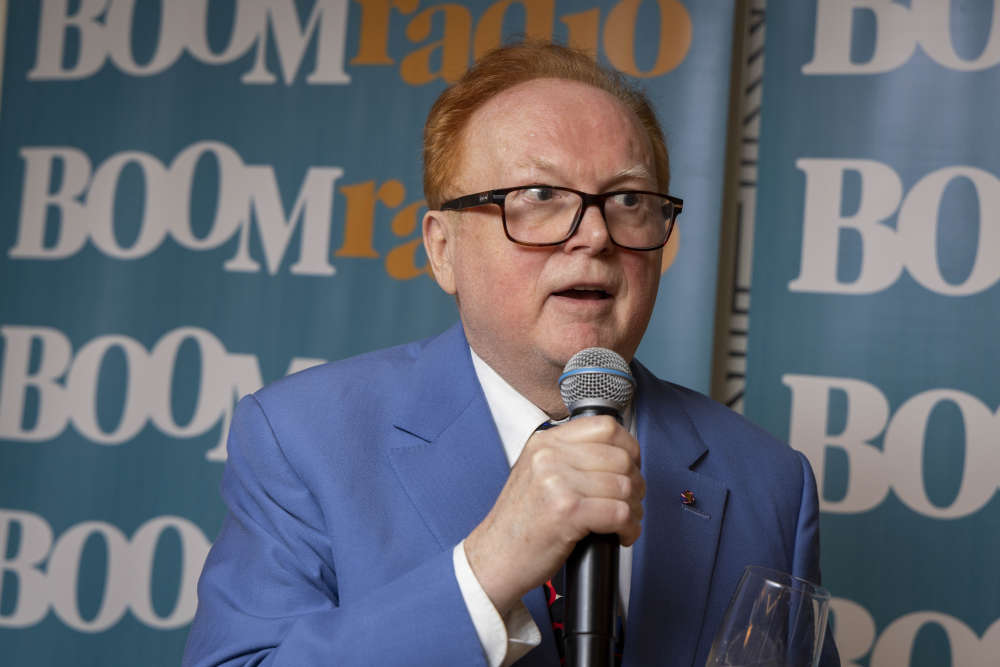 One great thing about Boom is how many music artists get in touch. It never ceases to amaze us.
Mind you, we have to be careful about what we say, with not knowing quite who's listening. We know Cliff has been.
There's seems to be something about what we do - maybe the wide repertoire of music we play - that impresses.
So, how great it was that Mike Batt dropped in. What a pleasure to catch up with the writer of Bright Eyes, not to mention his Womble days, about which he will answer questions with admirable tolerance. Lovely guy.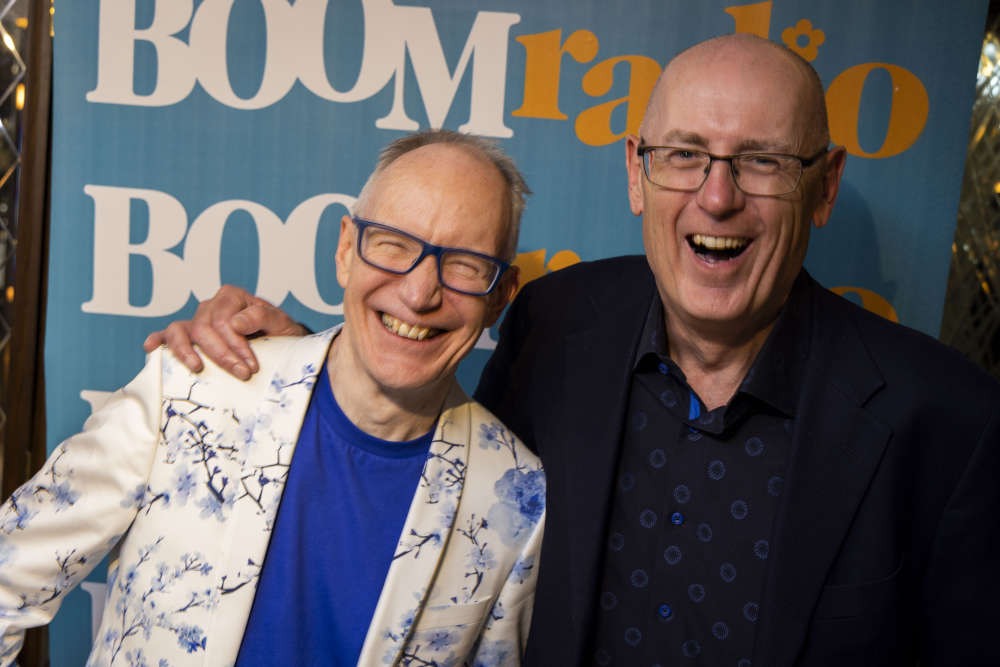 Boom co-founders David Lloyd (daft jacket) and Phil Riley (sensible jacket) were enjoying the night. And why not. Boom was a crazy idea hatched in lockdown that's grown more quickly than they ever dreamed.
How to listen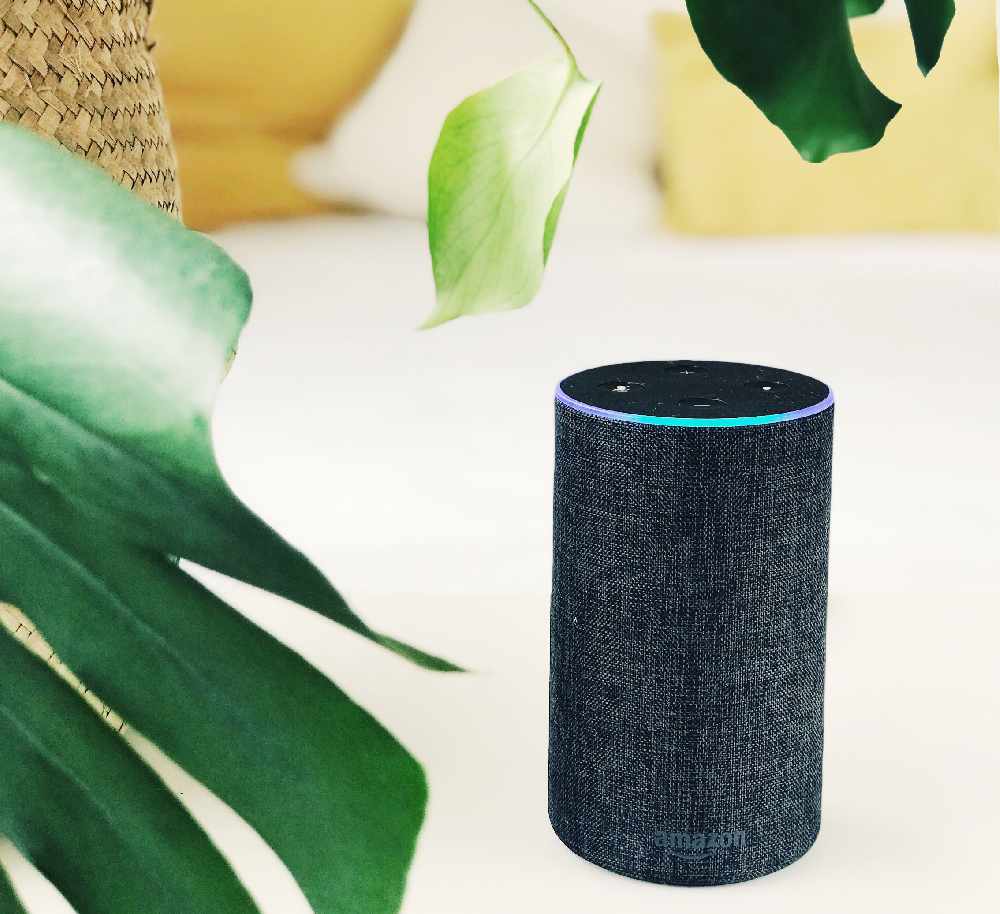 You can hear us on DAB across the UK.
And you can hear us online in high quality on your phone, laptop, PC or tablet.
On your smart speaker, it's 'Alexa - Play Boom Radio' or 'Hey Google - Talk to Boom Radio'.
Need to know more about how to find us? Check our guide here.